Morning Folks - Just can't believe it's Thursday already....
Well not much crafting for me today - THE BIG CLEAN IS ON!!!!
Yup! this fur pit is getting a good seeing to - Have got the marigolds, CIF and Domestos at the ready, all I need now is a fur proof suit and goggles!!!!!
Wish Me Luck - God knows what I might find in those deepest darkest places we tend to ignore all year. If I'm not back by tomorrow will someone send out the search party purleeeese!!!! LOL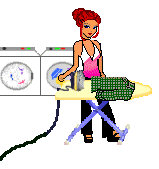 Might be back later if I can squeeze in a card!!!!